To reassign tasks and work is an important function in APEX. That is why assigning case managers is so important on projects.
---
This is a guide for entrepreneurs and developers who use APEX.
A case manager will be the one administrering and processing appeals from customers, but also the role of a project that has access to administering the project itself. As a company with a subscription on APEX, you can add your own case managers to projects, and this is done through the project.
This is how you find your project:
Sign into APEX, and press the menu button to the top left.
Find "Projects" from the listed menu, and press it.
Then you will see a list of your available projects.

If you have no access to projects yet, then this list will be empty.
Read more about creating a new project here.
The alternative is being added as a case manager to another project.

If you locate your project, press the project name, and you will be taken to the summary of your project.
Read more about the project overview here.
Add case manager
In your project you will have multiple sections that show the information about your project. One of these sections are "Case Managers".
Press the section to expand it, and show connected case managers.


Will be empty if no case managers are added yet.

Press the plus icon to the right in the Case managers section.
In the box that emerge, you will be able to search for APEX users.
Search for the person you want to add, either by name or by company.
After pressing the wanted user, you can then press "Save", and the person will be added.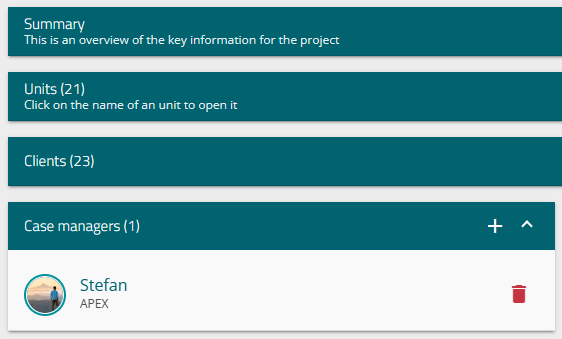 The person will then be added to the list of case managers on the project, and will be able to administer cases, the project and incoming requests from the customers, connected to the same project.
A case manager MUST have a user already added in APEX, but can be:
A person added in the same company as you.
An external person from another company, as long as the other company also has a payed subscription to APEX.