If you have forgotten your password, you can ask to change it.
---
Follow these steps to reset your password:
Go to
https://apexit.apexapp.io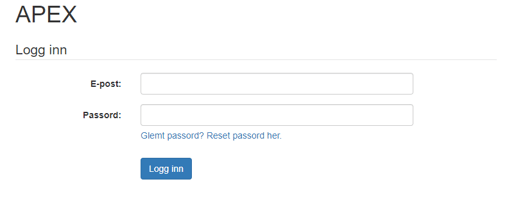 Click this button: Which takes you here:


Enter the e-mail address you are registered with in APEX.
Note: Here it is important that you enter your e-mail as it is registered.
A space at the beginning or end, as well as a capital letter where there shouldn't be one, can put an end to the process.


Click Send.
*The e-mail you recieve will look something like this:


Click this button: which will take you to the site where you can change your password:


Enter your new password, repeat your new password.
Note: Your new password must contain at least 8 characters, one number, at least one upper and lower case letter.

Click the button to save your new password.
When your password has been changed, you will receive the following message:


Click the button where you will be taken back to the login-page.
Enter your e-mail address and your new password to log in to APEX.