This is a part of the MOM builder, and where you create the folders, as well as giving the suppliers access to upload the files.
---
This is a guide for builders and contractors who will set up MOM in a project.
You navigate to MOM on a project like this:
Log in to APEX, and press the menu on the top left.
Then press Projects in the menu.
In the list of available projects, you will be able to find/search for the desired project.
Inside your project, you will have a round button at the bottom right..
If you click it, then the option "Manage MOM" appears.
Manage MOM on the project
You will get an overview of all the disciplines that are available to create folders via. These are shown in the form of cards, with the discipline and a button with "Create" on it.
Click "Create", to create a set of folders to upload the MOM to.


A case is also created in connection with the discipline folder being created.

You will then have the opportunity to add collaborators.


If you want to use the MOM builder to add MOM yourself, you can also add yourself as a collaborator. Either if you stand alone, or in addition to the contractor who will contribute with the documentation.

Tap on add collaborator, which is the icon with a person with a plus sign.
Search for yourself, or the contractor who will contribute in the discipline.

The collaboration partner that is added here is also added to the corresponding MOM case that is created. This can be found as the case manager, or contractor on the case, in the case list.

Finally press "Add".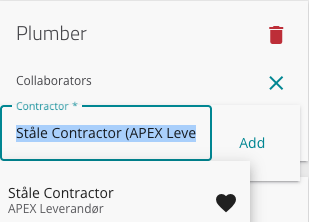 Via the discipline, you and/or the contractor now have access to the MOM builder, and can contribute with the documentation.
MOM for units
This is a function that allows you to collect all MOM for a home, in one and the same folder. This is in case you want to more easily distribute the files in other ways. You can read more about this on the dedicated help page for MOM for units.